Coronavirus (COVID-19) Updates
Coronavirus (COVID-19) Updates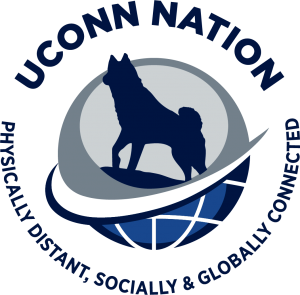 The worldwide pandemic involving COVID-19 (coronavirus) has produced unprecedented challenges in the UConn community and around the world.
We recognize that these unusual circumstances create significant uncertainty and unease in the professional and personal lives of our students, employees, alumni, and others throughout UConn Nation. The University cares about your well being, and we encourage you to exercise compassion for each other and to know that your perseverance during these unusual times is greatly appreciated and admired.
To help you navigate the significant amount of information that these circumstances have required, here's an overview of UConn's major announcements to date:
UConn's courses at Storrs, the regional campuses and School of Law have moved to online delivery through the remainder of the 2020 spring semester, including final exams. Students can elect to take their courses on a pass/fail basis. Additional details will continue to be posted under the Academics link at right.
Commencement exercises in May have been canceled.
The UConn Stamford campus is closed entirely until further notice.
Students should remain at home or elsewhere in accordance with state and federal guidelines. Residential Life will communicate directly to students as to how and when belongings can be retrieved. Students who have been approved by Residential Life to stay because they have nowhere else to go will be allowed to remain on campus. Dining options and other essential services will continue to be provided.
Employees at Storrs, the regional campuses and School of Law who can telecommute should plan to work from home, with their supervisor's approval, until further notice. Human Resources addresses this and many other questions in its guidance letter and FAQ for employees, and will be working with unit leaders to continue to reduce the number of employees working on our campuses in the days ahead.
All on-campus research activities at all UConn location, including UConn Health, has stopped and labs have closed until further notice. Further guidance for active researchers and industry partners is available on the Research link at right.
When UConn Health identifies COVID-19 positive patients, it takes all precautions recommended by the CDC to protect staff, visitors, patients, and learners. Please refer to COVID-19 UConn Health Updates for the latest clinical updates.
No events larger than 50 people are permitted at any UConn location. This includes all events, meetings and performances, which should be canceled or postponed if they involve more than 50 people.
UConn Athletics has canceled all events for the remainder of the academic year, including all spring teams. This is consistent with the NCAA's decision to cancel all scheduled spring championship competition.
In keeping with crowd limits and attempts to reduce exposure to the virus, the Jorgensen Center for the Performing Arts has cancelled all of its remaining 2019-20 season events. The Ballard Institute and Museum of Puppetry has cancelled all events and the museum will remained closed through mid-May until further notice.
The Student Union, Student Recreation Center, all locations of the UConn Bookstore, and the UConn Dairy Bar are closed until further notice.
All UConn Education Abroad students have been recalled to the U.S., and those programs have been canceled.
President Katsouleas outlined many of the aforementioned changes in a letter to the community on March 17, and hosted a virtual town hall on March 18 in which he and other UConn officials addressed the university's preparedness measures and other details. We encourage you to watch it if you have not already done so.
For complete updates covering all areas of UConn operations, please refer to the "Important COVID-19 Updates" links in the right column of this web page.
Message from UConn President Tom Katsouleas
I want to take a moment to recognize the extraordinary ongoing work of the people who are on the very front lines of the COVID-19 pandemic: our physicians and healthcare workers here at UConn, especially at UConn Health. The work they have done to diagnose and treat the first influx of COVID patients while also ramping-up efforts to contend with the surge that we soon expect to see has been nothing short of heroic.
At UConn Health, we have thousands of doctors, nurses, and other medical professionals who are working round the clock to diagnose and treat patients – all while managing the steady flow of non-COVID patients they see during the regular course of business. They are supported by many other UConn and UConn Health employees who are also working hard to carry out our mission in a time of crisis.
This pandemic is unprecedented in our lifetimes and again and again our UConn medical professionals have shown they are equal to the task at hand: nimble, creative and tireless, drawing from their professional lifetime of experience and knowledge to combat a grave and growing threat.
This is of course only the beginning. We expect that things will become much worse and more challenging in the weeks ahead, which will place a heavy burden on our healthcare system and providers. We will do all we can to help and support them in this fight. Please join me in thanking them for all their efforts.
Important COVID-19 Updates
Donation of Critical Needed Supplies
Recently, the UConn Research Department was able to pull together some critically needed supplies for UConn Health and our First Responders.  We were able to collect and consolidate the supplies into one location at the Storrs Campus.  Amy Allen, Associate Director of Supply Chain Management, has stepped up to coordinate the receipt and consolidation of donated supplies by the UConn Community.
Some of the critical supplies in greatest need include the following.
Disposable Gloves
Surgical Masks/N95 Masks
Disposable Lab Gowns
Disposable Tyvek Suits
New Bottles of Hand Sanitizer
Alcohol Wipes (60% or greater)
Antibacterial Wipes
Lab Goggles/Face Shields
Lysol/Clorox Wipes
If you have materials that can be donated, drop-off days are as follows:
Tuesday, April 7, 2020 from 1:00 p.m. to 3:00 p.m.
Thursday, April 9, 2020 from 9:00 a.m. to 11:00 a.m.
Drop Off-Location:  UConn Surplus Store, (Front loading dock), 6 Ahern Drive (Depot Campus), Storrs, CT (Directional signs will be set-up on the outskirts of Depot Campus to Surplus Store).
If you cannot make the times set for drop-off or have any questions please contact Amy Allen at amy.allen@uconn.edu.
Thank you for your continued assistance and support, all donations are greatly appreciated!