Coronavirus (COVID-19) Updates
Coronavirus (COVID-19) Updates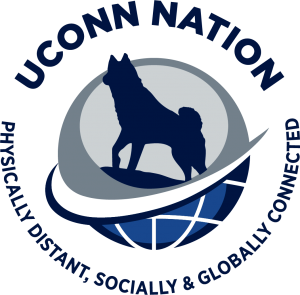 To the UConn Community:
Earlier this year, the university communicated that a final decision about returning for the fall semester would be made before July 1. This month, the university posted its draft reopening plans online and more detailed plans were recently shared and discussed with the UConn Board of Trustees.
This message serves as official confirmation that UConn will reopen in the fall, as planned, with courses being offered in-person, online, or as a hybrid of the two. In keeping with state guidelines and gating conditions, very significant safety protocols and modifications will be implemented to help support the health of our community.
Please note that as new information becomes available we will be in contact again and we will update our reopening website.
For all students: on Monday you received a message from the Registrar indicating that we have begun the process of finalizing class schedules and re-registration where needed. This will be completed by late July. An FAQ on this process is available. While we will have more online courses than in a typical semester to balance safety and accommodate reduced classroom density, we are seeking to provide as many in-person classroom and out-of-classroom co-curricular experiences as possible.
Residential students: on Monday, new information regarding housing assignments, the residential calendar, and the quarantine period were posted here. Please also note that housing assignments will be completed no later than August 1 and move-in will begin on August 14. We will communicate directly with students on each of these issues.
Instructional updates for our faculty and graduate student instructors: we have been focusing our efforts on matching teaching preferences, availability of instructional spaces, and undergraduate student preferences for the fall semester. We are making good progress in meeting our goal of ensuring a rigorous UConn education for our students while balancing safety for everyone. We have now begun the process of finalizing class schedules for students.
Faculty and staff telecommuting/onsite work: reducing population density on campus while still fulfilling our mission is a key goal for the fall semester. There are a number of faculty and staff who need to be physically on campus to carry out their primary work of teaching, research, supporting students and facilities, and related activities, while others do not. Most employees who have been telecommuting since the spring should plan to continue to do so for the duration of the summer and during the fall semester 1) unless otherwise instructed by their supervisor to return to campus with at least two week's notice where possible and 2) only when the employee's primary functions are directly student-facing (exceptions will apply and may be authorized). Throughout the rest of the summer we continue to ask you to avoid coming to campus wherever possible to limit population density. If you need to come to campus, you should contact your manager, department head and/or dean. HR will distribute protocols next week to address managers' and divisional requirements regarding telecommuting continuation and return to work procedures.
Testing: all residential students must be tested upon returning to the Storrs and Stamford campuses two weeks before the first day of classes. The university is currently evaluating testing needs and potential protocols for faculty, staff, and commuter students and no final determination has been made. The university is relying on guidance from Connecticut state government, guidance from the Centers for Disease Control and Prevention, and other public health and infectious disease experts. Once a decision with respect to testing has been made for faculty, staff and commuter students, the university will announce it.
Thank you for your continued patience and flexibility during this unusual time. More communications will be forthcoming.
2020-08-12 | COVID-19 Medical Care and Expectations During Fall
Dear UConn Students,
Student Health and Wellness (SHaW) is looking forward to welcoming you back to UConn this fall. As the Medical Director of SHaW, my team and I are focusing on the health and safety of all of the members of our community. We are now in the final stages of preparations for welcoming you back. This letter is intended to provide details to you and your family on the health and safety plans this fall.
SHaW- Medical Care has been closely monitoring updates from the Centers for Disease Control and Prevention (CDC) and has been working in collaboration with our local and state departments of public health regarding COVID-19 as we operationalize our plans to support our fall opening. As a result, we developed a multifaceted approach for how to monitor the health of our community. Below are some of the specifics which apply to both graduate and undergraduate students.
Testing Requirements:
Storrs Residential Students: All Storrs residential students will be tested for COVID-19 upon arrival to campus. SHaW will be set-up in the same location where you will be assigned for your Residential Life Move-In process. The COVID-19 test will be collected in coordination with your residential life check-in. You do not need to do anything separate from your residential move-in process. Arrival testing will be followed by a 14 day residential self-quarantine.
Stamford Residential Students:  All Stamford residential students will be tested for COVID-19 soon after arrival to campus.  UConn has arranged for on-site testing for August 18, 2020.  Stamford residential students will receive detailed instructions for how and when to obtain the test by August 14th.
Residential Self-Quarantine (August 14-30): Residential students on the Storrs campus, as well as all students arriving from a state on the CT Travel Advisory List, are required to self-quarantine for 14 days:
Students will electronically submit a daily symptom survey to SHaW – Medical Care.
Students will remain in their residence halls until they receive a negative test result for approximately 2-3 days.
Asymptomatic students will be allowed to leave their residence to pick up meals from designated dining halls.
Students will be allowed to engage in limited outdoor activities with other members of their designated family pods starting on August 20th.
No guests will be allowed in the residence halls during residential quarantine.
Students from states under the travel advisory:
Students have been directed to be tested within 14 days of travel.

Positive COVID-19 PCR test result – Do not travel to Connecticut until you receive medical release from isolation.
Negative COVID-19 PCR – 14 day self-quarantine after arrival to Connecticut.

A negative test does not change the self-quarantine requirement.

Residential students from states under the travel advisory will be tested again upon arrival and will be quarantined in separate residential housing for the 14 day residential quarantine period before moving into their previously assigned residential housing.
Off-campus students traveling to UConn for in-person learning from CT Travel Advisory states (CT Travel Advisory List) will need to participate in testing and surveillance processes as instructed by SHaW.   As a reminder, upon coming to Connecticut, you are required to complete an on-line travel health form within 24-hours of arrival.  You can find that form at ct.gov/travelform.
One family member is permitted to assist a student during move in.  Families traveling from states indicated on the CT travel advisory should spend less than 24 hours in CT. If overnight stays are necessary, families should have a test prior to arrival (per the "unable to quarantine" provision in the Advisory) and limit their activities to those required for moving students into their residential facilities, on or off campus.
Off-Campus and Commuter Students (Storrs and Regional Campuses): Off-campus and commuter students, both graduate and undergraduate, for all UConn campuses who are registered for in-person instruction or who will be regularly working or doing research on campus are required to submit verification of a COVID-19 negative test result prior to attending in person classes. This test must be collected within 14 days of the start of classes, which for most students the 14 day period begins on August 17th.
The university is making COVID-19 PCR testing available through a mail-in option at no cost. An email will be sent to this email address between August 13–16 with information on how to obtain testing through our partner, Vault Medical. Students may also obtain testing on their own at their own expense and upload the results through the SHaW Patient Portal.
Any student who tests test positive will need to submit a medical clearance from isolation form to SHaW prior to coming to campus.
UConn enforces Governor Lamont's Executive Order 7III.  We will enforce the Governor's Executive order and our Student Code of Conduct with mindfulness towards the unique health and safety implications of endangering behaviors to our campus community in the context of this pandemic.  
Residential Student On-Going Testing (Surveillance Testing): In addition, as is required by Connecticut regulations, there will be weekly testing of selected students who are not symptomatic. Students will receive notifications when they need to obtain a COVID-19 test. The test will be provided by SHaW in the newly refitted field house testing site. Specific instructions for how and where to obtain that test will be sent to selected students each week. There will also be additional surveillance testing through environmental monitoring strategies, which may guide additional testing efforts.
 Symptomatic Testing: Any student who experiences symptoms of COVID-19 should seek immediate medical evaluation and testing before engaging with the campus community. Use the CDC Self-Checker for a list of symptoms and to help you make decisions and seek appropriate medical care.
Additional Health and Safety Measures:
Self-Isolation: If you are diagnosed or presumed positive for COVID-19, you will be recommended to self-isolate at home. For those Storrs Campus residential students who cannot self-isolate at home, they will be placed in self-isolation in one of the dedicated reserved isolation spaces on campus. Individuals in self-isolation must remove themselves from face-to-face interactions with others until they are recovered. SHaW will provide daily telemedicine visits for Storrs students in isolation. Food will be delivered by UConn Dining Services for Storrs based residential students in isolation.
Contact Tracing and Close Contacts: The timely notification of close contacts of individuals diagnosed with COVID-19 is a crucial strategy in limiting the spread of disease on campus. Close contacts are defined as household members and anyone who was closer than 6 feet for longer than 15 minutes. Close contacts will be required to self-quarantine for 14 days following the last point of contact. Students in self-quarantine will be supported by SHaW-Medical Care or their local health departments.
Communication: All of these strategies rely on the SHaW Medical Care team being able to contact you. Notifications for on-going testing will be sent by text and email that will link to a secure message in your patient portal. SHaW will call you directly if you test positive for COVID-19 or have been identified as a "close contact." SHaW will be here to support you in the event that either of those situations occur. Responding to our communications will help keep you and our community safe.
Any Storrs student who needs to transition to an online format due to being directed to self-isolate or self-quarantine should email the Dean of Students Office to request instructor notification. The Dean of Students will notify the instructors and work with the student to provide support when life circumstances are impacting their ability to focus on courses and/or their UConn experience.
Any Regional campus student who needs to transition to an online format due to being directed to self-isolate or self-quarantine should email the Student Services staff at their home campus to request instructor notification. The Students Services staff will notify the instructors and work with the student to provide support when life circumstances are impacting their ability to focus on courses and/or their UConn experience.
For more detailed information and additional questions, SHaW has provided FAQs on our website. SHaW also has created a resource page for Managing Mental Health during the pandemic.
The health of our campus fundamentally depends on our commitment to the behaviors that will continue to keep our community safe. In addition to the use of a deliberate testing strategy, physical distancing, the use of face masks and face coverings along with regular hand washing are highly effective ways to reduce the transmission of COVID-19.
Best Regards,
Ellyssa Eror, MD
Medical Director, Student Health and Wellness
2020-08-11 | Urgent Message to Students Regarding Fall 2020 Semester
Dear UConn Community:
In recent communications with the state Department of Public Health and our own infectious disease experts at UConn Health, we have come to the difficult conclusion that we need to further de-densify our campus residential spaces. This is to both reduce the risk of illness and enable greater quarantine capability in the event it is needed, and we believe it gives us a design which, with everyone's cooperation, allows UConn to not only open successfully but complete the semester as planned.
Accordingly, out-of-state students who are enrolled in only online courses are being asked to stay home and will not be permitted to live in University housing during the fall 2020 semester.
This decision does not apply to students who have any in-person elements to their coursework and program, including hybrids, working in research labs, training with teams, etc. It also does not apply to international students (who rely on visas and would struggle with online learning given international time zones) or students already residing on campus.
Affected students will be contacted directly later today by the Department of Residential Life. Housing and dining fees already paid will be refunded and they will not be charged any cancellation fees. This communication will include instructions regarding an appeal process for those students with unique circumstances who, for any number of reasons, cannot remain at home for the upcoming semester. All impacted students will remain eligible for spring 2021 housing provided the university is fully open.
This was a very difficult and unwelcome decision to have to make. In making a choice between the options available to us, we were guided by what would produce the greatest public health benefit and the least academic disruption. I know that this change will be a great disappointment to the hundreds of out-of-state students who wished to return to campus. We are committed to providing you and all of our students with an exceptional learning experience and keeping you as connected to the UConn family as we can, regardless of where you are living.
During this challenging time, we are guided by the advice of public health officials. While the prevalence of the disease is low in Connecticut, that is not the case in many other states. By asking our out-of-state students who don't need to be here in person for their studies to stay home, we are aiming at preserving the extraordinary progress Connecticut has made in arresting the spread of the virus.
Educating our students in a pandemic requires sacrifices to provide a safe learning environment. In addition to the impact of this decision on some of our out-of-state students, our students who do return to our campuses will also have to make personal sacrifices including strictly abiding by rules that require a campus quarantine to start the semester, face mask usage at all times, and keeping physical distance from one another. Similar requirements of masking and distancing are mandated by the state for off-campus residents, as well as quarantines for those from most outside states.
To all of our students, in Connecticut or away, in person or virtual, I look forward to welcoming you to the fall semester in the days ahead. Our faculty have been working for months now with our Center for Excellence in Teaching and Learning to deliver the pedagogy that best fits the learning objectives of each particular course, and our staff have been working non-stop to redesign our physical spaces, signage, virtual platforms and support services to keep you safe and well.
Whether you are traveling or not in the coming days, take care and be well.
Sincerely,
Tom
2020-07-28 | From The Dean of Students on What the Fall Will Look Like
Dear Students,
Normal, for now.  When a colleague shared that with me during our fall planning conversations, I realized how right she was.  UConn is looking forward to resuming residential living and in person learning this fall.  However, the pandemic is not resolved and we need to introduce ourselves to a different kind of UConn this fall.
I write today to share your enthusiasm for the fall return and to provide a detailed description of what 'normal, for now' will look like at UConn.
First, to keep our campuses open and to retain some sense of normalcy, we each need to commit to ourselves and to each other to adopt key behaviors that are effective in reducing exposure to COVID and controlling the spread of the virus.  Whether in person or apart, we are One UConn and we must all prioritize the health of UConn Nation.  This means wearing masks, practicing physical distancing, and notifying our healthcare provider when we are symptomatic.
As we know all too well, the restrictions COVID places upon us are constantly changing and I want us to maintain good communication with one another. UConn Communications has committed to developing communications channels for you to be routinely informed of our plans.  Our objectives are to maintain regular centralized updates through the reopening website and daily COVID emails. You may find statements on social media platforms about our plans but these may not be accurate. The most comprehensive and up to date information is available on the UConn Reopen page and through the regular COVID emails. I encourage you to regularly check these sites/messages.
I am thankful to the hundreds of employees who have dedicated themselves over the course of this summer to ensure our best work.  We miss UConn as much as you do and we look forward to your return.  As always, our plans are designed to be nimble and responsive to the changing presence of illness on campus.
Below I am including specific steps we are taking as a university to provide for you -- medically, residentially, and as an engaged and connected community.
Community Engagement:
UConn Promise: As Huskies, our ability to be a safe and healthy campus rests in our compassion and care towards one another. The UConn Promise solidifies our shared commitment to maintaining physical distancing, monitoring our health, and caring for others as individuals during complex times.
UKindness: We will continue and expand UKindness, a University-wide initiative intended to inform, engage, and connect with students during the COVID-19 pandemic. The UKindness portal will provide information on approaches we can take to keep our community safe, healthy and connected through a variety of student-focused initiatives.
Guidance on Gatherings: Student organizations will meet virtually through September 20. Following that, student organizations will be able to hold activities and meetings in person in accordance with state guidelines on gathering. University events will occur throughout the residential quarantine period and throughout the fall semester.  All events –whether university or student led- will need to occur in compliance with state guidance.  Additional information is available here.
This does mean that many events and activities will be redesigned to meet the physical distancing requirements to help keep us safe and connected with one another.
Dining: We will have five dining locations open in Storrs and one in Avery Point for the fall while following University and State guidelines. The dining facilities will be serving take-out meals however; this may change to a take-out / dine-in option as we get closer to Fall semester, following the University and State of Connecticut guidelines and safety protocols. Retail dining locations, such as the cafes, will be open with reduced seating and will be arranged to allow for adequate physical distancing.
Masks and Physical Distancing: Masks/face coverings must be worn on campus and physical distancing must be practiced to ensure public health. Wearing a face covering can help prevent the spread of infection to others when worn by someone who has COVID-19, even if that individual is asymptomatic. The mask reduces the release of droplets during breathing, speaking, coughing or sneezing. Wearing a face covering does not replace physical distancing, practicing good hygiene, and staying home when sick. Following these guidelines will help us all work to keep our campus community healthy. More information about proper usage of masks is available at this link. 
Enforcement and Expectations: Students will be advised on expectations through signage presented throughout the campus. Students will not be able to attend in-person classes or university events if they do not wear a mask and adhere to physical distancing requirements. Repeatedly failing to follow these expectations may result in a referral to Community Standards and/or removal from the residence halls. Following the community expectations is a necessary act of support for all members of UConn Nation. 
Recreation Center: The UConn Rec Center will open to students on August 31. Prior to that date, the UConn Rec staff is deeply committed to offering robust virtual classes and recreation options that will continue throughout the fall semester.
Medical:
In a recent email from the President, UConn shared our commitment to a multifaceted approach to student health. Here are a few highlights:
Testing: All residential students are required to be tested upon arrival while simultaneously observing a precautionary 14 day quarantine period on campus prior to the start of class. Commuter students engaged in in person learning are required to submit verification to SHaW of a negative COVID test administered 14 days prior to the start of classes. Students should refrain from coming to campus until proof of test has been provided. Students having difficulty obtaining testing will be advised on how to do so through additional communication from Student Health and Wellness.
Surveillance: SHaW will be routinely and randomly testing Storrs students throughout the semester. Further, we are grateful to our colleagues in Human Genomics who are partnering in developing methods for expanded surveillance testing and environmental monitoring. 
Contact Tracing: Contact tracing identifies individuals who have been less than 6 feet away from a confirmed positive case for greater than 15 minutes. Regional departments of public health are responsible for contact tracing. SHaW has been designated by DPH to contact trace UConn Storrs students. On the Storrs campus, SHaW will notify students identified through contact tracing. The Dean of Students Office will work with identified students to notify their faculty. 
Quarantine and Medical Isolation: Residential students are required to participate in a precautionary 14 day quarantine before the start of the fall semester. This time period will have fewer limitations than a medical quarantine. During this time period, residential students will not be confined to their rooms and will be provided with limited engagement opportunities which will follow the State's guidance on gatherings. Students are expected to remain on campus.
Medical quarantine is a period of time when a student who has been potentially exposed to the virus is medically advised to limit their in-person interactions with others. Residential students who are in medical quarantine will not be able to attend face-to-face classes and their movement around campus will be limited so that more people are not potentially exposed to the virus. Students who do not live on campus will not be able to come to campus if in medical quarantine until medically cleared by their primary care provider.
Students who test positive for COVID, whether symptomatic or asymptomatic, will be placed in medical self-isolation and must remove themselves from in-person interactions with others until they are recovered. Both quarantine and isolation will be monitored by a health care professional.
Storrs based students may receive medical care and guidance through Student Health and Wellness while students on our regional campuses will continue to be cared for by their primary care providers. Residential students will have access to isolation spaces as needed, but are recommended to self-isolate at home. When possible, non-residential students should also self-isolate at home.
Storrs students who need to miss class due to medical quarantine or isolation should email dos@uconn.edu to request support in notifying their faculty when they are unable to attend classes. Regional campus students should email the Student Services staff at their home campus to request support and faculty notification.
Residential:
Occupancy: The University has reduced occupancy at the Storrs campus by 30%.  Students living within the residence halls for the Fall semester must comply with the Temporary Health and Safety Procedures and the Housing Contract.
Residential Life recently completed the room assignment process. Thank you for your patience as we all make a rapid and significant adjustment to residential living. I am happy to report that we were able to meet the priorities of the university and grant housing to those all students who appealed.  While not possible in every case, Residential Life is making every effort to keep apartment mates together and to honor students' housing rate preferences. 
Family Unit: The family unit term describes groups of individuals living in close proximity to one another within university residence halls. Within the 'family unit' structure, students are able to operate as they would in a home environment. Family units include 1) Residents in apartments, 2) residents in a suite (two rooms connected), and 3) residents assigned to a residential floor (floor section) who share a communal bathroom.
Travel:
As of July 24, 2020, the state of Connecticut has mandated that all individuals who come to Connecticut from a state under a travel advisory must submit Connecticut's  online travel form and self-quarantine for 14 days after arrival. Students under this state mandate should stay home, separate themselves from others, and monitor their health.
This will impact the ability to attend in-person classes so please plan accordingly. SHaW will be directly contacting students from travel advisory states with further direction on testing, quarantine, and registering with the University.  Any students with questions about their recent travel may contact SHaW directly.
***
I realize this is a great deal of information to process at one point in time and you may have more questions. In the coming weeks we will have forums for specific populations - residential students, parents/families and faculty. Please watch your email for announcements of the dates, times and how to access the forums.
So that's our normal.  For now.  But not forever.  We all sincerely hope for a full return to campus life in the Spring of 2021.  In the meantime, I welcome you to the fall and to our return.  It will be a different time, but one where I know we will care for each other as Huskies and all do our part to keep our campuses open.
Eleanor JB Daugherty, EdD
Associate Vice President for Student Affairs and Dean of Students
2020-07-20 | Fall Re-entry Testing FAQ
Will there be any cost for Testing?
The University will make available at no costs a PCR test and expects those who have been approved to return to campus at reentry to receive a PCR test prior to returning to campus. Any employee can choose another test option obtained personally but the expense will not be covered by the University and it is not required to submit evidence to the University that a test was administered.
Where Will Tests Occur?
The University-sponsored PCR tests will be provided by UConn Health for approved faculty and staff returning to our campuses at reentry at Storrs, Avery Point, and Stamford. In addition, testing for those approved to be on the Hartford campuses and Waterbury campus at reentry will be available at the UConn Health drive thru in Farmington. At the present time, faculty and staff approved to be on campus after reentry will not be provided tests by the University unless early indicators suggest otherwise or following additional developments.
When will testing Occur?
Currently, the University is working on a plan for testing to start on Tuesday, August 4th through August 21st. On select days during this period testing will take place for 4-5 hours per day at Storrs and Farmington (for Waterbury, Hartford and Law School colleagues) and one day each at Stamford on August 7th and Avery Point on August 13th, as tentative dates.
What are these Tests?
he COVID test being made to faculty and staff is a COVID 19 PCR test. PCR tests are used to directly detect the presence of an antigen, rather than the presence of the body's immune response, or antibodies. By detecting viral RNA, which will be present in the body before antibodies form or symptoms of the disease are present, the tests can tell whether or not someone has the virus very early on. No other tests of any nature are being performed other than a COVID 19 PCR test which will be performed by the University of UConn Health once an employee consents to the test and schedules an appointment.
Who will see Test Results?
UConn Health will see your results. You will have access to your results as well. A data file will be sent back to Human Resources with acknowledgment of your positive or negative test results. HR will utilize those results to work together with employees who test positive and will not be able to return to campus as planned, as well as notify your manager that you are unable to return to work. If you are already on campus, the manager must inform employees who have been identified as having been in close contact with an employee who has tested positive for COVID 19 and that they have been identified as an individual for whom there was sufficient contact to warrant notification. To the extent possible, this notification should be done by phone, but if this is not possible an email is sufficient. IMPORTANT: At no time should the identity of the co-worker ever be disclosed to any other co-workers; this information should remain confidential and only known to the manager and HR, unless the ill employee voluntarily discloses their status to co-workers.
If your test results come back as negative, then you will be clear to come to campus.
If your results come back as positive, you must not return to UConn with these test results. UConn will be using a symptom-based or a time based strategy if you are symptomatic or asymptomatic,
respectively. You will be able to return to work following notification to HR that the following conditions are met:
If symptomatic:
At least 3 days (72 hours) have passed since your recovery defined as resolution of fever without the use of fever-reducing medications and improvement in respiratory symptoms (e.g., cough, shortness of breath); and,
At least 10 days have passed since your symptoms first appeared
If pre-symptomatic or asymptomatic, the following will be required:
At least 7 days have passed since your positive test and you have had no symptoms of COVID-19 (you remain asymptomatic); and,
For 3 days (72 hours) following discontinuation of isolation, you socially distance (stay six feet away from others) and wear a mask. (Remote work is recommended in this circumstance).
UConn HR reserves the right to request and require any and all medical documentation it deems necessary to verify you are able to return to work.
What is Happening Next?
UConn and UConn Health are working together to set up testing. UConn HR will need to know by Monday, July 27th a) who is approved to return to campus, b) which of the four categories of approved employees to which you have been classified and, c) if you are already on campus and have not already been tested, what is your re-entry date.
On July 28th and 29th, UConn HR will send those for whom testing is being made available a communication with specific next steps regarding consent and scheduling for tests to begin on August 4th. At the time, you will be provided how to schedule your test online following consent and the specifics including directions to the testing sites by campus.
2020-07-20 | Further Guidance On Faculty and Staff Testing, Training, and On-Campus Requirements
Sent on Behalf of Christopher Delello, Chief Human Resources Officer
TO: All UConn Faculty and Staff at Storrs and Regional Campuses:
In a follow-up to President Katsouleas' recent communication on the fall reopening and testing, I write to provide further guidance on faculty and staff testing, training, and on-campus requirements. This guidance is lengthy but reflects, with specificity, where we are along in our reentry and testing plans:
Faculty and Staff Reentry Testing Summary
Faculty and staff who are required and approved to work on campus to accomplish their primary job functions will have COVID 19 PCR testing made available at reentry at no cost to them through our partnership with UConn Health. Availability as early as August 4th through August 21st will be made on site at Storrs, Stamford (Tentative – August 7th) and Avery Point (Tentative – August 13th) for eligible employees at these locations. Eligible employees at UConn's Waterbury and Hartford campuses will be provided access to UConn Health's Farmington drive-through location.  We encourage and expect those who have these tests made available to them, to take the test.
Who Will Be Allowed and Approved to be on Campus?
The University continues its plans to de-densify the Storrs and regional campuses. If you are working from home now, you should continue to do so unless approved by the University to return to campus. If asked to return, you will receive at least two weeks' notice prior to return to campus where possible.
Therefore, most employees are expected to telecommute through December 31, 2020 unless the primary duties of the job require them to be on campus full-time or on a significantly limited basis with manager approval and University authorization. The only faculty and staff (including post-doctoral scholars) that will be allowed on the campus will be the following categories of employees before, during and after reentry:
Direct Contact with/Support for Students - defined as close professional contact with students within 6-ft for more than 15 minutes as a primary job function. For example, a classroom instructor in-front of students; residential life staff, certain academic functional assignments, staff providing continued window service; or a food/retail service professional. Even with these roles, where telecommuting or rotational programs can be supported, they should be.
Critical Infrastructure Support - defined as a role with or without direct student contact on a full time basis where all primary job functions cannot be done remotely, such as facility operations, police/fire, animal care and support. It does not include work that is "preferred" to be accomplished onsite or non-critical infrastructure work by an employee or manager or any such work that can continue to be done remotely in areas outside these critical infrastructure responsibilities.
Part-Time or Rotational Critical Support Functions often with No Direct Contact with/Support for Students – defined as roles that include some and limited critical administrative functions that cannot be done remotely, such as some financial, payroll, administrative and HR functions for a small number of hours per day for 1-2 days per week. It does not include work that is "preferred" to be onsite or non-critical infrastructure work by an employee or manager or any such work that can continue to be done remotely. Employees and those in this category should be less than 15% of a manager's staff.
Research Colleagues – research faculty and staff working in a lab approved for research reentry under the research ramp up process.  Work that may be done remotely should continue to be done so.  All sponsored program supported personnel must be working on the aims of the grant as pay for no work expired at the end of June.  Any situations where an employee is unable to work in the lab and who cannot telecommute should be noted. In this event, additional information will be forthcoming.
Note: We recognize that some individuals who fall within these categories are already on our campuses; if so, if they have not already been provided a University provided COVID test, one will be made available to them by the University. Undergraduate students and Graduate assistants will be tested using the student strategies that will be communicated by Student Health and Wellness.
It will be important and required that all managers and employees adhere to these registry categories of employees approved to be on campus – adherence will be essential to limit transmission, ensure the capability of social distancing, for contract tracing efforts and for contact notification and other important impacts. Any cases of failure to approve by a manager or onsite visits by an employee to campuses for work outside of these requirements will be swiftly addressed by Divisional leaders and the University.
Employee Exchange Program
The University requires that all manager and employees working remotely are able to continue to conduct meaningful and productive work from home as a full FTE.  An employee must be able to work at home and deliver on position requirements or either voluntarily or at the requirement of their manager - be willing to take a temporary assignment to continue to be paid. For these situations, earlier this summer the Office of Human Resources developed and communicated our Employee Exchange Program and there are many roles that are needed as the University reopens. We ask managers and staff to refer here for more details https://hr.uconn.edu/employee-exchange-program/.
Campus Registry and Testing Detail
Tomorrow morning, the Work Force Team in Human Resources will provide organizational leaders across the University with rosters of employees who are members of their teams and within their accountability. The University will ask organizational leaders to identify those employees who will be telecommuting and those who meet the registry definitions above and are approved to be returning to our campuses along with their reentry date (unless they are already on campus). We anticipate that a majority of our professional staff and faculty will continue to telecommute during the fall semester. Additional guidance will be anticipated in mid-December, 2020 regarding registration for January and the Spring 2021 semester. More information about the testing, testing sites and dates are found on the attachment to this communication.
Mandatory Training
Environmental Health & Safety (EH &S) has developed a return-to-work training for all employees who will be on campus. This training is mandatory for all on-campus employees including regional campuses before returning to campus. More information will be forthcoming from EH &S.
On-Campus Requirements
While on campus, it is required that employees adhere to the following: wear a face mask; maintain a distance of 6ft with others; and wash hands thoroughly and frequently. EH & S will be providing more guidance about these requirements.
Domestic Travel Now or Before Reentry
On June 24th, Governor Lamont announced quarantine guidance for all travelers arriving in or returning to Connecticut from several states. As the situation remains dynamic, it's important for employees traveling out of state domestically to review the state's most up to date guidance before departing and returning from travel, especially if you are approved for reentry to any of UConn's campuses by July 27th. UConn Employees should consider the impact of this guidance when considering whether to travel now and before reentry. As communicated by Human Resources on July 2nd, all domestic travel to the states noted by the State of Connecticut require a registry by faculty and staff – please refer to the following communication on the HR website (https://hr.uconn.edu/employee-domestic-travel-storrs-regionals/).
As we move towards the fall semester, I want to extend my appreciation to all of UConn's employees for your continued dedication and support of the University's missions during this unprecedented time.
In closing I want to thank our colleagues and the senior leadership team at UConn Health who have been partners with us during the development and roll out of this testing strategy. Please join me in thanking them for their important guidance and contributions to these efforts.
Please contact hr-communications@uconn.edu with questions.
Thank you,
Christopher Delello, Chief Human Resources Officer
2020-07-18 | UConn COVID-19 Testing Strategy For Fall 2020
To the UConn Community:
This message outlines UConn's overall approach to COVID-19 testing in advance of the beginning of the fall semester and reentry. Additional messages to specific populations will follow, offering more detailed information and/or instructions.
Our approach to testing for our community is straightforward: if a student or employee is coming to our campuses because they have to be there, they should be tested. This includes faculty, staff and commuter students on every campus, both graduate and undergraduate. There is not a "once-size-fits all" approach to accomplishing this, so the university will utilize different avenues and strategies.
We will not be testing faculty, staff and students who are not coming to campus this fall. This includes students who are online only and not living in a residence hall, faculty who are teaching only online courses, and staff who are telecommuting, which is a substantial segment of our population.
Residential Students
As you already know, all residential UConn students will be returning to our campuses approximately two weeks before the first day of classes to be tested and quarantined on campus. This is the segment of our population that is largely self-contained on campus, while others arrive and depart on a regular basis. We are arranging for testing of our residential students during check-in.
Commuter Students Coming to Campus
Testing will be addressed for commuter students registered for in-person instruction, both graduate and undergraduate, in several ways. First, these students are encouraged to submit proof of a negative test result obtained within 14 days of the start of the fall semester (Aug 31). For those students who do not obtain a test on their own, the University will provide testing.  The University is currently exploring several options for testing and specific information on these testing options will be available on the SHaW website by August 1.
Commuter students arriving to Connecticut from states under the regional travel advisory are advised to obtain a negative test result within the time frame indicated by the governor and the commissioner of the Connecticut Department of Public Health, followed by a 14-day self-quarantine period which must be completed before coming to campus and attending in person classes. More information can be found here.
Faculty and Staff Coming to Campus
Faculty and staff who will be on one of our campuses this fall will have PCR testing made available at reentry at no cost to them through our partnership with UConn Health. Availability will be as early as August 4 through August 21 on-site at Storrs, Stamford (one day only) and Avery Point (one day only) for eligible employees at these locations. Eligible employees at UConn's Waterbury and Hartford campuses will be provided access to UConn Health's Farmington drive-through location.
Faculty and staff eligible for testing and approved to return to campus and who are returning from out of the state for the start of the fall semester should incorporate the potential for a 14-day quarantine period into their travel plans. Please refer to further guidance already on the HR website for more details and a required domestic travel registry.
More information is forthcoming from HR shortly in messages to UConn Storrs and regional campus communities in the next few days. Additional communications will be made by July 28 to those for whom testing will be made available.
Testing is only one aspect of a successful effort to prevent the spread of the virus. The other, which is just as critical, requires every one of us to follow the guidelines mandated by the University for every individual who will be working and/or living on our campuses. This includes wearing a mask at all times, maintaining a distance from all others of at least six feet (other than those students living as a unit), frequent hand-washing or sanitizing, following signage posted in buildings and elsewhere, and not taking any unnecessary and easily avoidable risks. Following these precautions will help keep everyone on our campuses healthy.
2020-07-08 | Requesting, Using Certain PPE
Updated information is available on the appropriate acquisition and use of certain personal protective equipment, including face coverings, disinfectants and hand sanitizer. It also includes guidance on when clear Plexiglass barriers can be acquired and installed in certain spaces where other opportunities are not available to avoid face-to-face interactions and 6-foot spacing for physical distancing.
2020-07-08 | Procedures To Request and Receive Signage
University signs on pandemic-related health and safety measures are produced with standards to ensure consistency and clarity, and often with certain state mandates in mind. In keeping with that mission, UConn reminds individuals and departments that they should not design signs themselves. Certain signage has already been developed, and more information is available online on viewing those designs and acquiring them, along with the procedure for requesting signs that do not yet have an approved design in place.
2020-07-02 | Law School Student Information
All classes at the UConn School of Law will be held online in Fall 2020, Dean Timothy Fisher announced in an email to the law school community.
The overriding factors in the decision, which differs from the University's plan to reopen the main campus in Storrs, are the limitations of the buildings on the law school's Hartford campus. The size of classrooms and the nature of ventilation systems pose significant obstacles to in-person instruction with the required public health and safety precautions in place.
"We could only conclude regretfully that as much as we wish to bring our students, faculty and staff back to campus this fall, we must wait longer," Fisher wrote. The decision was reached by the UConn School of Law COVID-19 Leadership Planning Team, which includes Associate Deans Darcy Kirk, Leslie Levin and Paul Chill; Dean Designate Eboni Nelson; Library Director Jessica de Perio Wittman; Assistant Deans Karen DeMeola and Jennifer Cerny; and Registrar Lisa Rodino
No students will be required to be on campus or in Connecticut in Fall 2020, although some elective clinics may require students to be physically present on occasion. No decision has been made about the Spring 2021 semester.
2020-07-01 | Number of People Allowed At Any Indoor UConn Location
No events larger than 25 people are permitted at any UConn location. This includes all events, meetings and performances, which should be canceled or postponed if they involve more than 25 people. This number is based on the Phase 2 of Connecticut's Reopen Plan, which began on June 17, 2020. This number might increase in Phase 3, which is anticipated to begin in mid-July.
2020-06-10 | Plans for Reopening in the Fall
From Tom Katsoules, President
To the UConn Community:
I write to you today to share key initial aspects of our draft plans to reopen for the fall semester, which we will submit to the UConn Board of Trustees for its consideration, then to state government, in the coming weeks.
Welcoming our community back to our campuses in any way is contingent on our ability to meet a series of "gating conditions" established by state government. The state and UConn continue to make progress on each, and I am optimistic that together we will be able to satisfy them in advance of the next semester.
Our goal is to provide the highest-quality UConn education and campus experience as possible while also protecting the health of our community. So "returning" does not mean "back to normal." Our draft plans call for an academic semester and campus experience that will be unlike any we have seen previously. Successfully coming back and maintaining safety will require the cooperation and flexibility of our entire community during the ongoing Covid-19 pandemic.
Key aspects of the draft plans include:
The first day of classes will be August 31 and we will offer a range of course modalities with some completely online, some in a face-to-face environment, and others being a blend of the two. Students will not return following Thanksgiving break and the remainder of the semester, including final exams, will be online. The capacity of classrooms will also be reduced to allow for six feet of separation between people. We will have strong provisions in place to make the classroom environment as safe as possible, but we will be able to ensure that students and faculty who want an exclusively online experience can have that.
Our residence halls in both Storrs and Stamford will open, but with reduced density, and a new housing assignment process. Students do not need to reapply for housing. We will also set aside dedicated space should we need to isolate any students during the semester who fall ill. Students who will be living on campus (Storrs and Stamford) will be required to return approximately two weeks before the start of classes to allow for testing, as required by the state, and a period of quarantine. Potential testing protocols for other student populations, as well as accommodations and capacity, are still being evaluated.
In addition to students, we are developing protocols for employee testing, in a prioritized fashion, which would begin before the semester starts. To help maintain reduced density in campus buildings, the university will also release additional guidance in the coming weeks for managers and employees regarding continued telecommuting during the fall semester for staff who are able to telecommute (with the agreement of their supervisor).
Every member of our community will be required to wear a mask in public, common spaces, including classrooms. We have purchased enough masks to supply our entire community. If someone is unable to wear a mask, due to a medical condition for example, we will work with you to identify a solution before you return to campus.
Health screening and monitoring will be continuous and we will reinforce the "stay home when ill" mandate for both employees and students at all times. We will promote frequent handwashing and/or sanitizers, physical distancing, and regular cleaning and disinfection of campus spaces. We will institute a variety of preventative measures through operational changes to our buildings, transportation systems, deliveries, and visitation as well as interactions with campus visitors and guests to help reduce the risk of spreading the virus.
I know that our students, faculty, and staff will have countless questions. Over the summer, the university will continue to prepare, release, and update the volumes of material related to our reopening, operations, and the virus, and we will endeavor to answer every question as best we can.
Today, I wanted to give you a piece of what our draft plans are for the fall, which, as I said, will be submitted to our board and then the state. There is much more to come.
This is new for all of us. And returning successfully and safely depends on all of us. The hallmarks of success will be resiliency, flexibility, understanding, cooperation, and, as always, creativity. Fortunately, Huskies have each of these qualities in abundance. I believe there is no challenge we cannot meet and rise above as long as we remember that we are in this together.
More information appears on this dedicated website.
Finally, even as we approach the fall with a sense of cautious optimism, I want to acknowledge the terrible toll the pandemic has taken here in Connecticut and around the globe. Though the number of cases, hospitalizations, and deaths mercifully continue to fall in the state, there remains a deep sense of grief for those we have lost. We will never forget this awful experience, but maybe in some way it has made us more grateful for what we have. In time, perhaps we will emerge stronger and wiser because of the painful lessons we have learned.
I hope you have a healthy and enjoyable summer and I am hopeful beyond words that we will see each other again very soon.
2020-05-15 | Updated HR Guidance on Work Arrangements, Pay, Other Topics
From Christopher J. Delello, Associate Vice President and Chief Human Resources Officer, UConn and UConn Health
View the original letter (PDF)
Dear Faculty and Staff Colleagues:
Over the last week, Governor Lamont announced a plan would allow various sectors of the Connecticut economy to address reopening gradually, in phases and with guidance. I am writing today to update you on our current workplace and return to work guidance and pay practices while internal planning continues for restarting operations across our campuses. Though lengthy, this communication contains information that all of us, as Huskies, need to know.
Telecommuting Employees: Importantly and for the time being, everyone who has been working remotely should continue to do so until the President announces any changes to the University's current operating status. If that were to occur, guidance will be provided and your manager will inform you when you should return to the campus or your work location. At Storrs and our regional campuses, we expect more will be known by June 30th as outlined by President Katsouleas last week.  Dr. Andy Agwunobi will continue to communicate with our valued colleagues at UConn Health and note that UConn Health employees may be returned to work sites sooner than other areas of our campuses state-wide.
On-site Critical Employees:  We continue to be grateful for the exceptional efforts of those of our employees deemed critical to the mission of the University and who have remained on our campuses and health center since the middle of March. All these activities, including Facilities Operations, will continue and we remain deeply appreciative of the professionalism, civility and dedication that is being exhibited across the university on a daily basis as we all continue to adjust to these challenging times.
Research Employees: We fully understand the critical importance of safely resuming research and other scholarly work and consistent with the Governor's directive it was previously announced that Research would ramp up in a phased process beginning on May 20th.. As a phased process, there is no requirement nor expectation that all research will resume on this date.  The OVPR process requires all PIs to complete a template that includes their plan for following CDC and other safety guidelines as well as COVID-19 specific training. Approval of the plan by the OVPR is required before labs can reopen and previously halted research activities can resume.
Toward that end, and as previously announced, Vice President for Research, Innovation and Entrepreneurship Radenka Maric and her team is leading the effort to safely resume our research programs and related research operations. In partnership with different units including Environmental Health and Safety, guidelines, safety plans, training and cleaning protocols have been developed that can be used by principal investigators, as well as departments, centers/institutes and colleges/schools to begin planning for the ramp up of research activity.  Guidance on the phased ramp up research for UConn and UConn Health is available on the OVPR website (ovpr.uconn.edu).
Pay Guidance: Until June 30th,in circumstances in which  a manager has no available work or no full-time work for an employee to complete remotely, the supervisor will approve continuing pay for the employee at their current rate of pay and regular scheduled hours/effort, without requiring the use of vacation, sick and/or health and personal leave accruals along with the following understanding: a) The same would apply to regular payroll employees paid on sponsored projects, b) Graduate Assistants with Spring Semester appointments who cannot work a full pay period due to lack of work will continue to be paid through the end of their spring semester contracts, c) Summer Graduate Assistant appointments will be issued in accordance with the collective bargaining agreement and d) Special Payroll employees who are able to continue working with approval of managers will be paid for hours worked and in accordance with their appointment terms or employment agreement.
Guidance for Managers and Supervisors:
Remote Work – Except for employees "deemed" critical (on-site) and research employees that may be cleared for work on and after May 20, 2020 by their manager or principal investigator, ALL employees currently telecommuting ARE REQUIRED to continue to telecommute and managers and supervisors are not permitted to alter those terms regarding return to work of their direct reports without the expressed approval of University executive leadership. Separate announcements will be made at UConn Health.
On-campus Services
UConn is a continuously operating university and some employees must work on campuses to provide services that are critical to residential life, campus health and safety, to conduct and support research, healthcare and/or other core missions of the University. UConn and UConn Health will continue to follow CDC, state and other federal guidance to ensure a safe work environment including social distancing practices, flexible work schedules, enhanced cleaning and disinfecting protocols, safety training and other measures and practices. If you are unclear if you are to report to work on-site, contact your supervisor.
We encourage managers and employees to explore the boundaries of flexibility and creativity in allowing as many employees to telecommute as possible, particularly with regard to requests involving comorbidity factors of themselves or those living in their households and those employees over the age of 65. During the workweek, allow employees to flex schedule their work within reasonable core hours so that they may juggle the demands of working at home, caring for their families and children while ensuring the work is completed timely and well. Ensure your staff have the necessary equipment and supplies to address the required work within reason.  Flexible work hours should be explored for those employees that have been cleared to work on or after May 20, 2020 to ensure adequate social distancing within the work space.
Employee Attendance
Managers and supervisors must not pressure employees or others to come to work if they are ill. If an employee is cleared to report to work, a manager may send an employee home if they are concerned about the appropriateness of the employee being in the workplace. Employees are asked to cooperate with managers who are taking on this uncomfortable responsibility for community well-being. If you are sick or aren't feeling well, the most important thing is for you to take care of yourself so that you feel better and stay away from others so that your illness doesn't spread.
Employees who are caregivers for a sick family member are to exercise caution and stay home if possible and with the approval of their manager. Conversely, if employees who have been told to report to work are well, they should not be pressured to stay away from work.
Exempt and non-exempt employees that are benefits eligible and who are scheduled to return to the work-site by their manager, and who believe that they may have a documented condition which puts them at greater risk even with the safety protocols put into place, may request to review individual needs with their department in conjunction with human resources current leave processes.
Know that not all approvals of leave or the use of accrued time or unpaid leave can be granted to maintain the sustainability of the University's mission, but we ask that all approaches be considered by managers before the employee is required to return to work.
The University is reviewing the issues surrounding employees caring for children at home when schools are closed against the availability of available child care and the possibility of accommodation within existing leave and flexible policies. 
Redeployment
Next week, the University will be socializing and introducing a new Employee Sharing Program with union leadership and then with our colleagues across the state. If there is a lack of work for a current positions, managers and staff employees will be asked/directed to register eligible employees for the temporary redeployment pool and  accept redeployment where offered.
Safety
Faculty and staff may have concerns about measures that may need to be taken by UConn in the event of even more widespread local, regional or national transmission of COVID-19. The university has extensive and thorough emergency procedures and is committed to doing everything it can to ensure the health and safety of our community. Because this is a rapidly changing situation, UConn has and will continue to prepare for and enact a range of preventative measures based on guidance from state and local health officials to protect public health.
What Should Employees Do Now?
Unless specifically told by your manager or principal investigator to be on any campus or work-site, you should not return unless scheduled to do so by your manager.
Follow procedures for social distancing and keep apart from other employees by at least 6 feet both on and off the work-site for your own protection, your loved ones, society and our UConn community.
Using prior guidance and Executive Order of the Governor, wear face mask/coverings. If you do not have a face mask or covering, contact your manager or call the UConn Warehouse to obtain one.
Follow all CDC everyday preventive actions to prevent community transmission.
If you are a returning Research colleague, follow all instructions for safe return to your work-site and adhere to them daily and without fail. You will receive more information in the days ahead on the new procedures.
These are trying times. I recognize that leaving campus with uncertainty is stressful and having a definitive timeline for returning to work on campus and/or our prior ways of working would provide assurances for us all. But that is not something we can provide at this time. Thank you for your patience and understanding as we continue to navigate this evolving situation and to mitigate the transmission of COVID-19.
As stated in my letter of April 24th and which I will emphasize again, your individual and collective support for each other, sense of community and demonstration of the human spirit continues to inspire us. The enormity of the challenges we are all facing continues, but I am proud to say that I know UConn and UConn Health will continue to face those challenges as we always do – together, and only together will we be able to bring our campuses back to life again. I ask all of us to continue to expand on the courage, civility and compassion this crisis calls for.
Please be sure to check for changes to the university operating status at (https://uconn.edu/public-notification/coronavirus/) the definitive source for timely information about UConn's operating plans and response to the coronavirus.
Important COVID-19 Updates